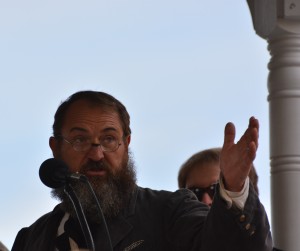 Come Worship With Us!
Sunday, October 27, 2019
11:00 am
Forest Grove Plantation
Please join us as Chaplin Joey Young of Old Paths Reenactors Missions leads the Sunday Morning Worship time. After being saved at the age of 22, Rev. Young answered the call to ministry. In 1996, he followed the Lord's leading to begin a full-time ministry of reaching reenactors with the Gospel of Jesus Christ. He and his family spend about 20 weekends each year preaching and ministering at reenactor or living history events. Community folks and visitors are welcome to the worship service.
Rev. Young distributes reproductions of Gospel tracts that were given to soldiers during the Civil War.