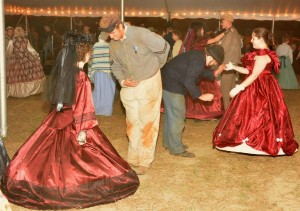 Saturday, October 26, 2019
8:00 pm until 10:00 pm
Forest Grove Plantation
$10 per person. Reenactors and children under 12 free.
Tickets available at the Chamber of Commerce, Mel Daniel Heating and Air, and Geo's Quarters.
Join us for a period Blue-Gray Masquerade Ball featuring music of the 7 LBS. of Bacon Mess Band. Dance the Virginia Reel, Hat Dance, Broom Dance, and Waltz. Light refreshments included with period beverages available to purchase from a sutler.
Since Halloween is near, we will add mystique to the ball by wearing masks. Victorian period costume with mask is encouraged although not required. But it sure is fun! You are welcome to create your own mask. Masks will be provided for those who don't bring their own.