All events during the Occupation of Sandersville are free, except for the following: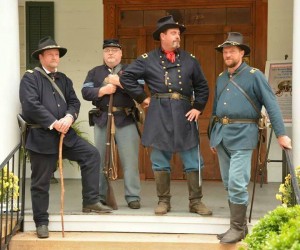 Twilight Lantern Tour of the Sandersville Old City Cemetery
Saturday, October 19, 2019. Tours: 5:00, 6:15, and 7:30 p.m.
Entry fee is $7.00 per person at the cemetery gates
Reenactors Registration
Blue-Gray Masquerade Ball
Saturday, October 26, 2019 from 8:00 pm until 10:00 pm
Tickets $10. No charge for children under 12 or Reenactors
Tickets are available from the Chamber of Commerce, Mel Daniel Heating and Air, and Geo's Quarters
Tactical Battle
Sunday, October 27, 2019 2:00 pm at Forest Grove Plantation
1200 GA Hwy 242, Sandersville, GA 31082
Parking is free, $5 per person at the gate to the battlefield
No charge for children under 12
With the exception of service animals, we ask that you leave your pets at home for this event.
Spectator Entry and Parking: