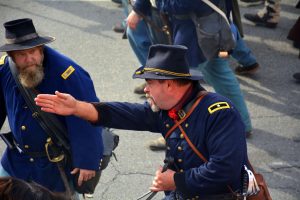 1. No digging of fire pits, build fires above ground.
2. Campfires must be supervised at all times.
3. Please return all unused firewood to woodpile.
4. Please park in designated parking areas only.
5. All modern anachronisms (sleeping bags, coolers etc)…must be covered during visitor hours (9:00 am. To 5:00pm.).
6. Please place all trash in plastic bags. Please do not leave trash in camps. Dumpsters are conveniently located throughout the site.
7. The firing of weapons in camp between dusk til dawn will be strictly prohibited. Firing of weapons in any camp during day light hours will be done ONLY in an effort to clear the peace and shall be conducted at a safe location proceeded by the call: "FIRE IN THE HOLE".
8. Generators must be turned off between 11:00 pm. And 7:00 am.
9. Pets are welcome but must be on a leash at all times.
10. ALL participants (military, civilian, & sutlers) will check in at the registration tent of preregistrations, to register, sign liability releases, obtain parking permits, event updates, directions, etc. Check the EVENT SCHEDULE for dates and hours of registration operation.
11. Participants will be required to display parking permits on their vehicles dash in a visible manner and to park in reenactors parking area only. Violators will be towed at the owner's expense.
12. UNIT COMMANDERS, please cooperate if the Provost request that you provide guards/sentries to stand watch for short periods of time at various locations within the authentic camp.
13. Each Unit Commander will be responsible for the conduct of his troops. They must be sure that their troops are aware of and abide by all safety regulations. Refrain from using alcoholic beverages while the camps are open to the public. ALL alcohol must be in period cup even after camp is closed to public. NO ONE will be allowed on field who is suspected of being intoxicated or under the influence of any substance.
14. Only 1860's period weapons are permitted on the event site unless they are properly secured in your vehicle. No projectiles, bullets, Minnie balls, or loading blocks are permitted at this event.
15. No participate will allow any spectators to handle or fire a loaded weapon, ride any horse, or play upon an artillery piece.
16. Unit Commanders have the responsibility to order anyone ill or unfit to not take the field.
17. In the event of an actual medical emergency of someone needing immediate medical attention in camp or on the field, the word "MEDIC" WILL BE SHOUTED. When this is heard, all activity should cease. On the field, all Commanders should immediately notify their Signal Corps and pull their troops back in a defensive position until medical personnel can care for that person and the field is cleared.
18. The entire event site is on Forest Grove Plantation and is historic ground. By the request of the property owner and in accordance with the Georgia Relic Law, NO RELIC HUNTING PERMITTED. Anyone caught will face expulsion from the event and will be turned over to the Department of Natural Resources Law Enforcement.
19. Everyone "THINK SAFETY" and have a good time.