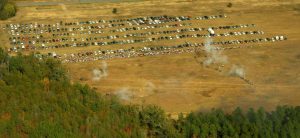 Spectator Entry and Parking:
Saturday, October 24 Battle on the Courthouse Square
The Courthouse Square will be blocked from parking the night prior to the battle.  There are ample public parking spaces within easy walking distance to the Square. A spectator area will be marked off for you to stand. Bring your own chairs for seating.
Sunday, October 25 Battle at Forest Grove
There will be a designated parking area just off Highway 242 (Riddleville Road).   There will be no charge for parking. Volunteers will assist your efforts to park and collect entry fees. Bring your own chairs or blankets for seating. During the battles, no one, other than reenactors are allowed to be on the battlefield or beyond the spectator lines. After the battles end we encourage you to visit the camps, relax or shop and see the great history our county has to offer.