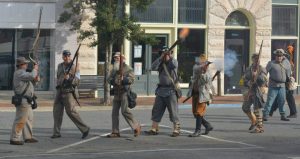 Saturday, October 24, 2015
9:00 am until 11:00am
Courthouse Square, Sandersville
Admission is free
On Saturday, October 24, 2015, reenactors will closely follow the historical movements of the troops Generals Sherman and Wheeler, with the Union troops advancing from the West and the Confederate troops prepared to offer resistance on the downtown Courthouse Square.  The Union march will begin very early Saturday morning.  The Courthouse Square battle will commence at approximately 10:30.  Infantry, cavalry, and artillery will be represented.  Be on the lookout for snipers!
The 97th Regimental String Band will provide music before the battle.  Vignettes of historical details will be presented.
It is very important for spectators to remain in the spectator line at all times.  The troops are moving very quickly.  While no ammunition is used, the guns and artillery are using gunpowder, so the area will be smoky and loud during the battle.  No photographers are allowed on the staging area.
West Church Street will be closed from 8:00am until 10:30am.  Drivers are encouraged to plan alternate routes.  West Church Street residents are invited to participate in the event by offering the troops light refreshments.  If you would like to participate, place a Blue Ribbon in a conspicuous place to be seen by the troops.  These are available from any local florist.  Be prepared for the "bummers', though, as they will be bringing their appetites!